---
¡Ack-Ack!
¡Ack-Ack!'s Home | Biography | Discography | Buy Now! | Social Networks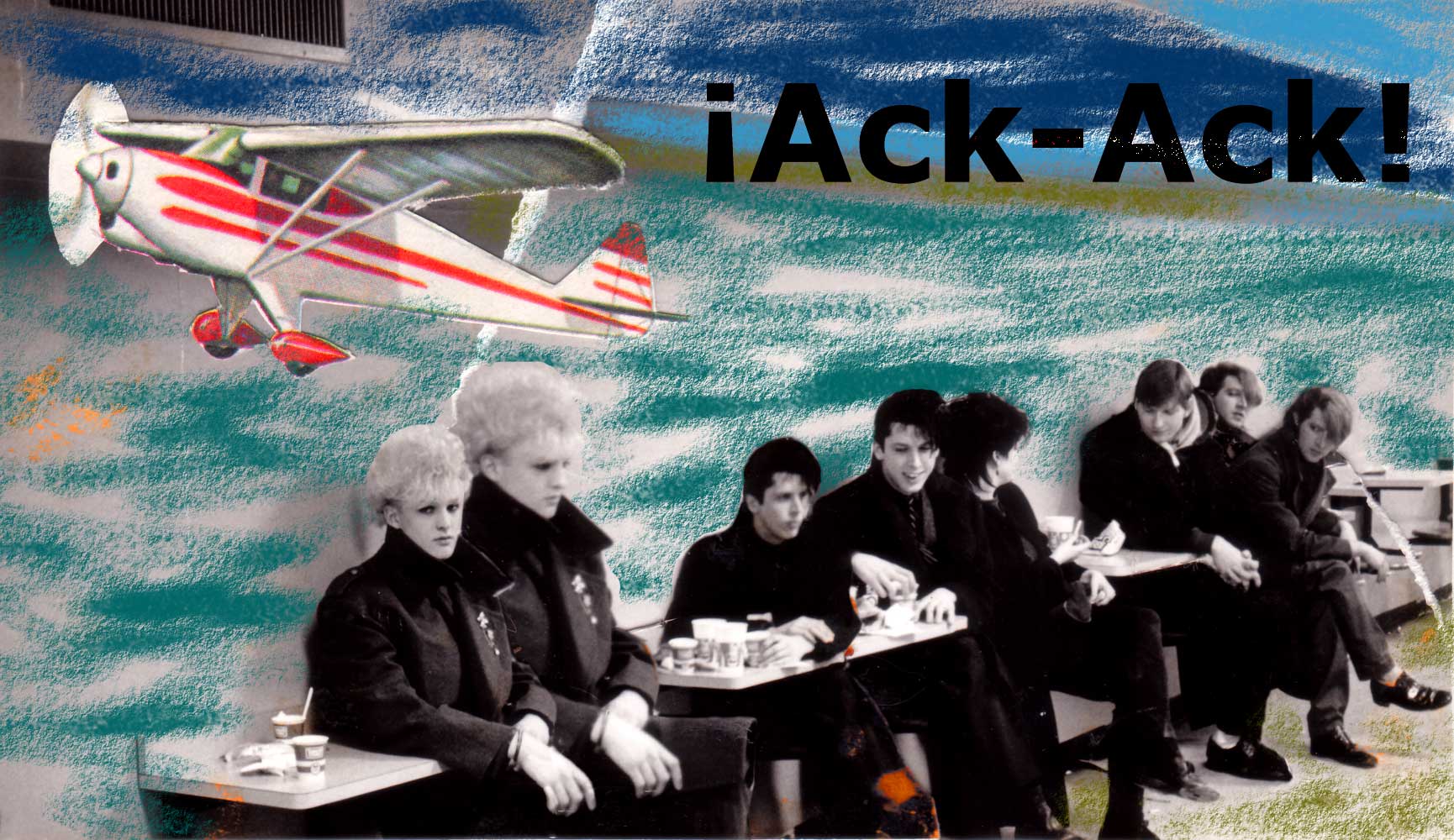 The story of ¡Ack-Ack! is a shifting tale of collaboration in a music scene more incestuous than the aristocracy of decadent Rome. Driven more by relentlessly creative urges than abstract loyalties, bands of the Champaign-Urbana Illinois music scene of the mid 1980s swapped partners frequently in ever changing and supremely prolific alliances, as though on a mission to explore every possible combinatorial permutation of the available pool of highly talented local musicians. Collectively, their product comprises a body of work both critically and popularly acclaimed that independently stretched the boundaries of pop music beyond recognition.
¡Ack-Ack! began in August 1982 as an artistic experiment in group composition. Within the group's first year, spent writing and discussing music, the need to expose the material to an audience for critical feedback expanded their focus to live performance. They were so well received that audience demand caused the group to evolve into what it eventually became at its zenith in 1986: an exciting, skilled live act with a solid compositional core. Various personnel changes over time strengthened its method of composition, as each new writer/performer reshaped the group's sound and direction towards its ultimate fresh and forceful style.
The cast of characters:
• Lynn Canfield - Synthesist & co-founder
• Steve Shields - Vocalist & co-founder
• Tim Stephens - Guitar (1982-1984)
• Tom Erbe - Bass synth (1982-1984)
• Brian Reedy - Drums (1982-1985)
• Joe Strell - Bass (1984-1986)
• Henry Frayne - Guitar (1984-1986)
• Brendan Gamble - Drums (1985-1986)
• Brad Giampoli - Guitar (1986)
Lynn Canfield - Keyboards
While working on her BS in Mathematics, synthesist Lynn Canfield wrote and sang in the experimental bands Crucial and Mode Zero until 1982 when she formed ¡Ack-Ack! with Shields. In 1983 and '84, she organized a multi-media performance art group and did extensive recordings as part of it, as well as session vocals for Brian Cook and Tom Garza, in addition to some solo writing and recording. Contemporaneous with ¡Ack-Ack! Canfield recorded with Steve Jones of The Arms of Someone New (who released multiple singles and albums on Jones' indie label Office Records), and then went on with Jones and Frayne to form the atmospheric indie cult favorite Area. After releasing several singles and albums on Office Records and then C'est la Mort Records (recently re-released by Projekt), Canfield and Frayne were joined by Gamble (and later by Don Gerard of The Bowery Boys fame) on The Moon Seven Times, whose eponymous CD debut on Third Mind Records was followed by two CDs on Roadrunner. In the wake of The Moon Seven Times, Canfield and Gamble formed Shotgun Wedding, releasing a CD on Whiner Brothers.
Steve Shields - Vocals
Between 1980 and '82, vocalist Steve Shields' experience as guitarist/synthesist in Crucial and vocalist/writer in Mode Zero caused him to grow interested in the possibilities of group composition, which led to the co-founding of ¡Ack-Ack! Previous to '82, he produced films and videos: Punks for God, Utensils, Jazz Tapes, and others. While fronting ¡Ack-Ack! Shields moonlighted on guitar with the dark dance act Club Crack. In the years following, Shields continued to explore the limits of entertainment and music with The Judy Gang, Steve Pride & His Blood Kin, and Sid Fate.
Joe Strell - Bass
Bassist Joe Strell joined ¡Ack-Ack! in May of 1984, after leaving The Imports, a notorious Chicago post punk group whose self-produced single was one of the top selling independent releases in Chicago in the early '80s. Along with session work with The Arms of Someone New and St. Mexico, he periodically worked with Club Crack (as bassist and later as producer of their live and studio recordings) and various independent writing projects. After ¡Ack-Ack!, Joe went on to release numerous recordings under the name Split Heavens, as well as to participate with Gamble in a studio project called Sylvia Darling that saw one album-length cassette released on Office Records. In recent years, Joe Strell has continued to release CDs of acoustic rock under his own name on the Dansbane Elandet indie label.
Henry Frayne - Guitar
The undisputed god of "love guitar", guitarist and transplanted New Yorker Henry Frayne performed with Champaign groups The Syndicate and Slash & Burn before joining ¡Ack-Ack! in August 1984. In addition to his work with the band, he contributed to releases by The Arms of Someone New, and recorded original compositions for lyricist James (Jimmy) Dobson's independent releases. After ¡Ack-Ack!, Henry went on to play guitar in Area, as well as The Moon Seven Times, after which he developed his world-renown atmospheric solo vehicle Lanterna.
Brendan Gamble - Drums
Drummer Brendan Gamble joined ¡Ack-Ack! in April of '85 after involvement with Interface and Digital Dysfunction, studio projects at Champaign-Urbana's Creative Audio. Although his main interest is in percussion, further endeavors include writing, engineering, production, and music synthesis. Brendan has collaborated with local bands and musicians, including Matthew Brandabur of The Shells and Steve Jones of The Arms of Someone New. After ¡Ack-Ack!, Gamble worked on a studio project with Strell called Sylvia Darling, and then hooked up with Canfield and Frayne to form The Moon Seven Times. Gamble and Canfield later formed Shotgun Wedding and released a CD on Whiner Brothers. Most recently, Gamble has released the solo album Heartless Moon on Parasol Records.
Other Alumni
Other illustrious alumni of ¡Ack-Ack! include Tim Stephens (guitar) and Brian Reedy (drums), who with Steve Burton on bass went on to form the amazing cult power trio Lonely Trailer, which has released a plethora of strikingly original material on both vinyl and CD. Another distinguished alumnus is Tom Erbe, the future-seeing impresario who played synth bass in the original lineup of ¡Ack-Ack!, who has gone on to a career writing audio software including "SoundHack".
"Another Face"
b/w "Look (the Other Way)"

Office Records fil36, 1985

7" vinyl single

"Automatic"
b/w "Shadow of a Heart" and "Trax"

Office Records fil-57, 1986

12" vinyl single

"Radio Bombay"
"Pretty Babies Invade Moscow"

Office Records fil-73, 1986

Compilation cassette including The Arms of Someone New, ¡Ack-Ack!, Secret Goldfish, Pete Govert, Nick Rudd, Tim Hanafee, and Area



"Tyranny B4 Temptation"
"Condition Red"

Office Records fil-103, 1987

Compilation cassette including Club Crack, ¡Ack-Ack!, Outnumbered, The Arms of Someone New, Area, Split Heavens, Weird Summer, and Judy Gang
Buy stuff from
Zazzle

Buy exciting official merchandise from ¡Ack-Ack! at www.zazzle.com/ackack Choose these items or customize your own t-shirts, mugs, badges and more!